Plant Growth Chamber Developed for NASA by Tupperware and Techshot Launching on SpaceX CRS-14
Companies team up to help improve plant production in space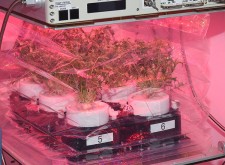 GREENVILLE, Ind., March 27, 2018 (Newswire.com) - An improved system for growing plants in space, developed for NASA by Tupperware Brands and Techshot Inc., is expected to launch to the International Space Station (ISS) April 2 aboard a commercial SpaceX Dragon cargo capsule from Florida's Cape Canaveral Air Force Station.
Since 2014, astronauts aboard the ISS have been growing a variety of leafy vegetables and colorful flowers inside the Vegetable Production System, otherwise known as the 'Veggie' facility. NASA is always seeking to improve upon existing technologies, while reducing its need for resources, such as crew time. In an effort to reduce the frequency that an astronaut must water plants growing in space, Dr. Howard Levine and his colleagues at the NASA Kennedy Space Center (KSC) began exploring new design concepts for the component of Veggie that holds the root structure of the plants – the so-called 'plant pillows'. Research at KSC led to a semi-hydroponic design concept dubbed the Passive Orbital Nutrient Delivery System (PONDS).
While it's always a thrill watching new hardware launch into space, seeing the first crop of PONDS-grown lettuce harvested aboard the ISS will be the real payoff after more than a year of hard work.
Iconic kitchen and housewares company Tupperware Brands, and Techshot Inc., a commercial space enterprise, partnered to further develop the concept and manufacture spaceflight-qualified PONDS plant growth units for use aboard the ISS. Up to six can be installed in Veggie at one time. Like the plant pillows, the PONDS devices are single-use items, which can be discarded after the plants are grown and harvested on orbit. However, unlike the plant pillows, PONDS can also be returned, refurbished, and reflown in space.

The seven PONDS modules launching on SpaceX mission CRS-14 in April comprise three variations on a common design. Four black "opaque" modules will grow red romaine lettuce, the same lettuce that has been grown previously in the Veggie facility. The two "shrouded" modules, also growing red romaine lettuce, each include a clear window and a removable cover that allows astronauts to periodically observe root growth in the hydroponic reservoir. One "clear" module, which does not contain a plant, will be used to perform testing and videography to characterize the movement of water within the reservoir while in space.

Six more modules are expected to launch in May from Wallops Island, Virginia, aboard a commercial Orbital ATK Cygnus cargo spacecraft. These six will grow another leafy vegetable called Mizuna. Both sets of hardware will provide a validation of the device's performance, in advance of its use in a comprehensive research campaign by NASA scientists in November.

Tupperware applied its deep knowledge and longstanding success of design for manufacturability, injection molding, and food-safe construction materials to yield a system that utilizes capillary forces and unusual internal geometries to replace gravity. The result is a product that is expected to provide plants grown in space with a near functionally-equivalent growing environment to their terrestrial counterparts.

"Tupperware products have included smart technology features for nearly 70 years," said Tupperware Brands Vice President of Research and Innovation David Kusuma. "Our product evolution goals have always been to meet today's needs for consumers, whether that includes microwaveable grills or food processors that require no electricity; we are proud to now say that this includes sustainable vegetation growth in space. This has been one of our most exciting and unique collaborations, and we are honored to have worked alongside NASA and Techshot on the advancement and success of the PONDS project."

With nearly 30 years of experience developing equipment for human spaceflight, Techshot assisted with requirements management, safety, verification and integration tasks, and some light manufacturing and assembly. It also provided Tupperware designers with access to subject matter experts in areas such as low-gravity fluidics.

"It's been great working closely with the talented teams of engineers, designers and scientists at NASA and Tupperware on the project," said Dave Reed, Techshot's PONDS project manager and the company's director of launch operations. "And while it's always a thrill watching new hardware launch into space, seeing the first crop of PONDS-grown lettuce harvested aboard the ISS will be the real payoff after more than a year of hard work."

About Techshot

Founded in 1988, Techshot is in one sense a dry goods merchant for the 21st century, providing the high tech picks and shovels that federal, institutional and industrial researchers use to make new discoveries in the life and physical sciences in space. Techshot handles all aspects of a research campaign for its customers. From the design and manufacture of spaceflight certified research hardware, to the integration of the hardware and its science payload, the company is a one-stop soup-to-nuts solutions provider. Its Space Act Agreement with NASA permits the company to commercially operate its equipment aboard the station. Techshot is headquartered in Greenville, Ind., and maintains an office at the Space Life Science Laboratory at the Kennedy Space Center in Florida. http://www.Techshot.space

About Tupperware Brands Corporation

Tupperware Brands Corporation is the leading global marketer of innovative, premium products across multiple brands utilizing a social-selling method through an independent sales force of 3.2 million. Product brands and categories include design-centric preparation, storage and serving solutions for the kitchen and home through the Tupperware brand and beauty and personal care products through the Avroy Shlain, Fuller Cosmetics, NaturCare, Nutrimetics, and Nuvo brands. http://www.tupperwarebrands.com

CONTACTS:

Techshot
Rich Boling, 502-741-5730
RBoling@techshot.com

Tupperware Brands
Kimberly Brown, 407-826-4445
KimberlyBrown@tupperware.com

Source: Techshot Inc.

Share:
---
Categories: Space Technology, Consumer Goods, Home
Tags: commercial space, International Space Station, International Space Station National Laboratory, space commercialization, Techshot, Tupperware Brands
---
Techshot
7200 Hwy 150
Greenville, IN 47124
United States